Success Story
While pregnant and on vacation in the summer of 2013, Madeline Haydon, Founder and CEO of nutpods, was frustrated with her non-dairy creamer options. That's when she decided to turn her own recipe for non-dairy creamer into a business. Born from a Kickstarter campaign, nutpods quickly grew to be a multi-million dollar, nationwide company. Initially an ecommerce brand and the #1 creamer substitute on Amazon, now they are also available in 25,000 retailers nationwide.
Nutpods creamer is a blend of almonds and coconuts and just 7 other ingredients. Their creamer can be used for coffee & tea or as a cream substitute in baking. The company has a passionate and devoted following, especially among diet and weight loss communities. Their products are independently certified to be vegan, kosher, non-GMO, gluten-free, and Whole30® approved. Nutpods creamers come in a variety of popular flavors, and they are regularly expanding their product list to meet the trends and demands of their customers.
3,000+
pieces of creator content
the story
Partnering with mega brand fans
Nutpods didn't have to go looking for their first group of creators. They had fans demanding to be more involved with the brand and wanting to form a community. 
While their influencer marketing program began in the tight-knit community of Whole 30, word quickly spread and so did the demand for access to their ambassador and affiliate influencer programs. 
Marketing manager Lydia Lee was tasked with not only vetting and onboarding new creators, but also hand packing and shipping out hundreds of samples to her growing list of partners. When it came to the end-of-the-month reporting, Lydia had to piecemeal data from a bunch of different places in order to create a picture to show off how well the program was doing. 
the goal
Grow the program without increasing headcount
When the nutpods influencer marketing program grew to 50 creators, managing everything manually became impossible. Nutpods was running a lean operation, and the company wanted Lydia to continue to grow the brand ambassador and affiliate programs without increasing headcount. While nutpods had the demand and momentum to grow their influencer program, Lydia just didn't have the bandwidth to do it successfully without software. 
Scale your influencer program and be ready for growth!
GRIN has allowed me to automate processes, saving me time, money and allowing me to scale my influencer programs. Before GRIN I was capped at managing a total of 200 influencers. Utilizing GRIN software has allowed me to push beyond that threshold and more.
- Lydia Lee, Affiliates & Ambassadors at nutpods
the solution
All-in-one influencer marketing and creator management software
With the addition of GRIN, nutpods was able to grow their influencer program from 50 to 150 creators, without increasing headcount and all of the pieces finally came together. With GRIN Lydia was able to search for creators, track posts, manage creator content, onboard new members, and the big one…fulfill orders, all from one place. The time it saved Lydia once she brought GRIN into their influencer program, made her job more manageable, and further growth a possibility.
A really big selling point for Lydia was GRIN's ability to integrate with Shopify. Where she had been organizing packing parties with her colleagues, that were "not a party..." now she could send out samples and affiliate orders with the press of a button.  
GRIN solved many of Lydia's problems such as fulfillment bottlenecks, making more educated decisions about who to let into their program, combining software with integrations, live branded application pages, and time-saving reporting.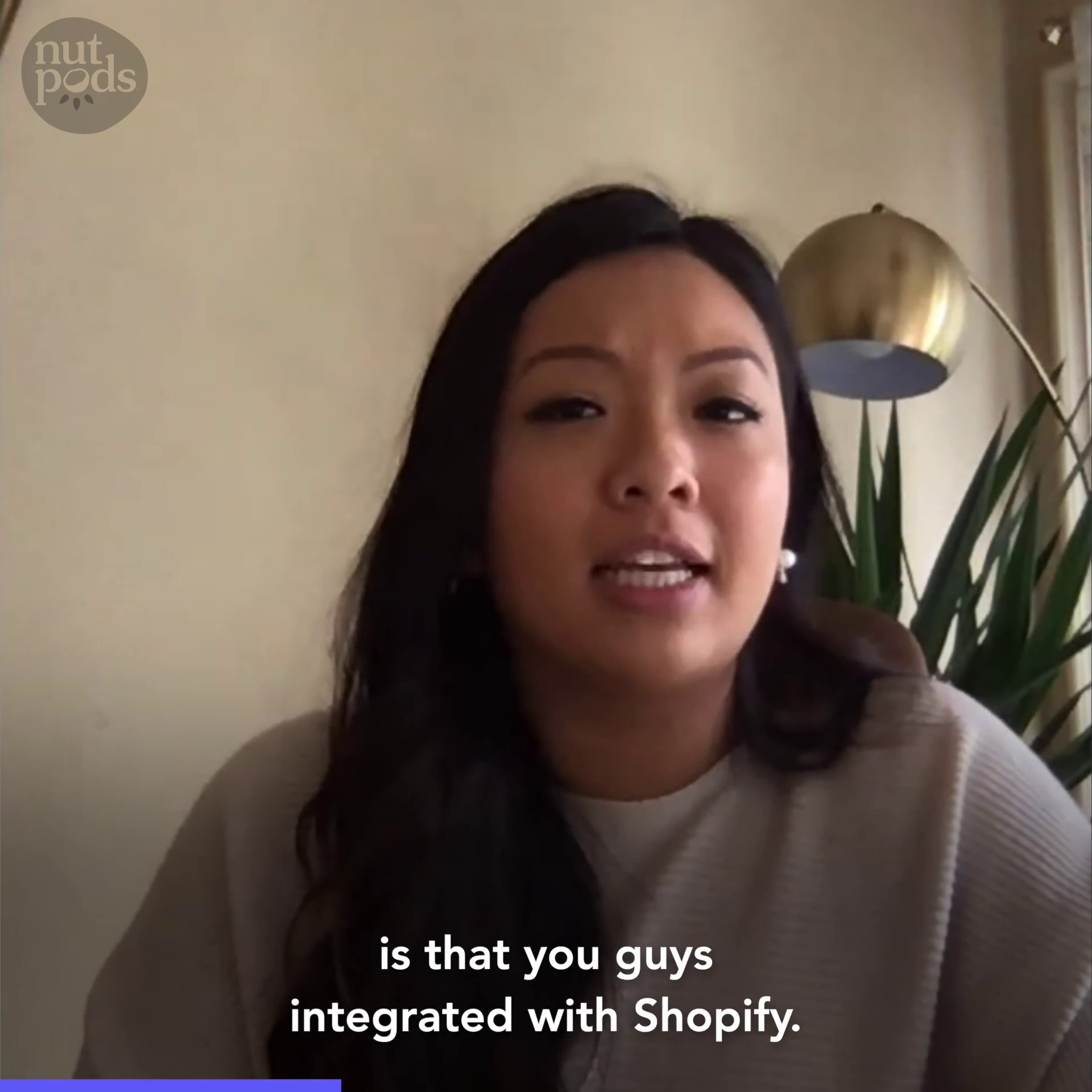 the results
An influencer program driving content and revenue
Since using GRIN, nutpods' influencer marketing program has grown to 250 creators who post weekly or more, including four paid activations a month. In addition to adding on more creators, GRIN has given Lydia the time to do a lot more with the program. They've expanded their goals from just revenue to now include content creation and they are able to communicate strict content guidelines required for specific retail locations. Nutpods is also ramping up their presence on TikTok and looking into Pinterest. 
Going forward, nutpods wants to continue to grow their brand ambassador and affiliate programs. They currently have over 300 people on the waitlist, so the company just hired someone new to help Lydia achieve their growth goals. She told the new hire "YOU ARE SO LUCKY… you have no idea the struggle I went through without GRIN!"
Why choose GRIN? Check out more of what makes us special
Make the most of your influencer marketing program with the all-in-one creator management platform designed to help you build more authentic, brand-boosting relationships.