Learn about our

all-in-one

influencer marketing & creator management software.
Influencer Discovery - Influencer Outreach - CRM - Product Fulfillment - Analytics - ROI Tracking
One

powerful hub

for your
entire influencer marketing program
GRIN puts every aspect of your influencer marketing program at your fingertips, empowering you to own it every step of the way
Discover creators.
GRIN gives you the tools to search a network of 32M social-media users across every platform to find the faces who are just right for your brand.
Manage relationships.
From emailing creators to shipping products to repurposing content, GRIN makes the day-to-day management of influencer marketing easy.
Report & track ROI.
One of the most comprehensive reporting tools around, GRIN shows you everything from individual metrics to ROI of your entire influencer program.
Check out this quick

GRIN software

overview
Want to see GRIN in action?
Scale your influencer program and be ready for growth!
GRIN has allowed me to automate processes, saving me time, money and allowing me to scale my influencer programs. Before GRIN I was capped at managing a total of 200 influencers. Utilizing GRIN software has allowed me to push beyond that threshold and more.
Affiliates & Ambassadors at nutpods
Bring your ecommerce shop & influencer marketing together.
Ship products & know when they arrive, create & manage discount codes, pay creators' commission on sales, & so much more.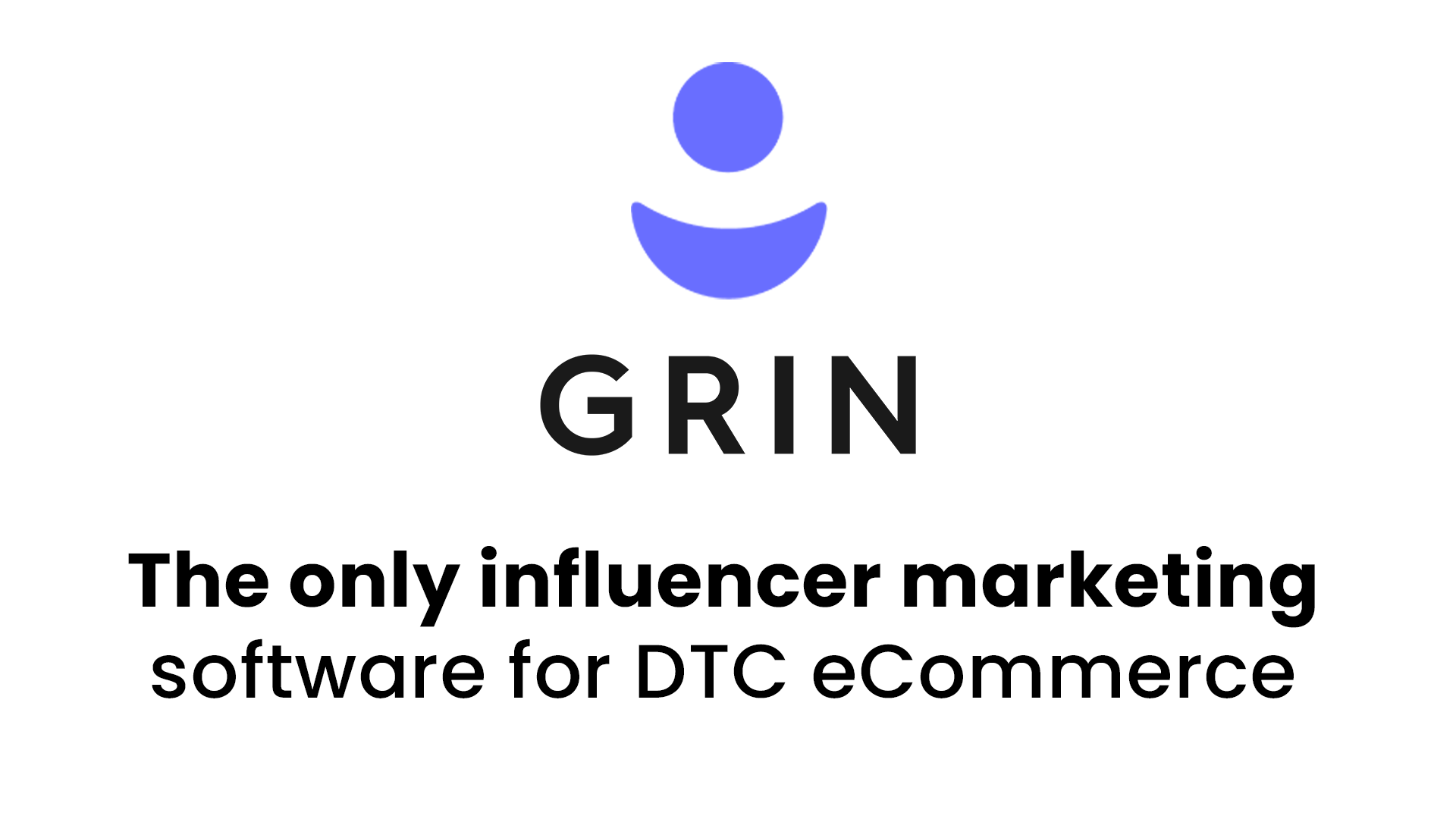 Frequently Asked Questions
GRIN empowers its users to overcome the challenges of running and scaling an influencer marketing program by helping them find the right influencers, manage relationships with each, track every post, and measure associated sales and ROI. 
GRIN's all-in-one Creator Management platform makes executing influencer marketing seamless, from recruiting to fulfilling product orders to attributing revenue to pulling in content. As a software solution, GRIN helps brands build direct relationships with their influencers, eliminating the middlemen seen in traditional influencer networks.
Brands can import existing influencers to a private CRM to manage long-term relationships within GRIN or leverage recruiting tools to accelerate outreach efforts and find creators to scale their programs. Thanks to GRIN's email integrations, communication with each creator is always direct and authentic. 
Next, brands can integrate their ecommerce store to create discount codes and affiliate links or ship products and track deliveries from a single dashboard. GRIN tracks and gathers the content each creator posts, eliminating the need for cluttered spreadsheets. 
GRIN's extensive reporting tools then provide real-time metrics to track engagement, sales, and ROI, helping users take the guesswork out of influencer marketing.
The GRIN database is home to millions of creators across Instagram, TikTok, and YouTube. Robust search features enable brands to filter creators by keyword, demographics, engagement rate, location, and more.  
GRIN's Live URLs help brands provide an inclusive experience for creators by letting them see campaign requirements, choose the products they want to promote, fill out shipping and payment info, and submit proposals.
With GRIN, creators get: 
Access to "under the hood" metrics, such as engagement rate, possible fake followers, audience insights, and more

Numerous payment options to get paid on time in a way that works best for them

Hand-picked products to include in content and promote

More efficient communication from brand partners
The Grow With GRIN website also gives creators access to valuable resources for growing their personal brand, referral opportunities, and more.  
GRIN users can view all third-party integrations and request new integrations by visiting the App Marketplace.
Current software integrations include: 
Box

DocuSign 

Dropbox

Gmail

Google Drive 

Instagram 

Klaviyo

Magento 

Outlook

Salesforce Commerce Cloud

Shopify 

Shopify Plus 

Slack

WooCommerce
GRIN saves its users an average of 61 hours per month versus a manual approach to influencer marketing. 
GRIN's all-in-one Creator Management platform helps users save time on:
Discovering new influencers

Creator outreach and follow-up

Organizing creator applications

Negotiating rates and terms

Fulfilling product requests

Tracking revenue

Viewing posted content

Reporting results

Distributing and repurposing UGC

Paying creators and filing tax documents
Make the most of your influencer marketing program with the all-in-one creator management platform designed to help you build more authentic, brand-boosting relationships.